Whether in a country home or a suburban semi, a good driveway can make your life and home better. From safety to first impressions, your driveway is incredibly important. However, this importance also makes deciding on the right material for your driveway a little tricky. We've come up with this quick primer to help you find the perfect material for your driveway. Whether stone, tarmac or brick, JTD Building Supplies provides you with different materials, colours and styles to fit your lifestyle.
Driveway Designs
Gravel
Gravel driveways are common in rural settings. This cost-effective material is great for long drives and for creating natural pathways in grassy areas. Gravel drives also don't hold water making it safer to drive in wintry conditions.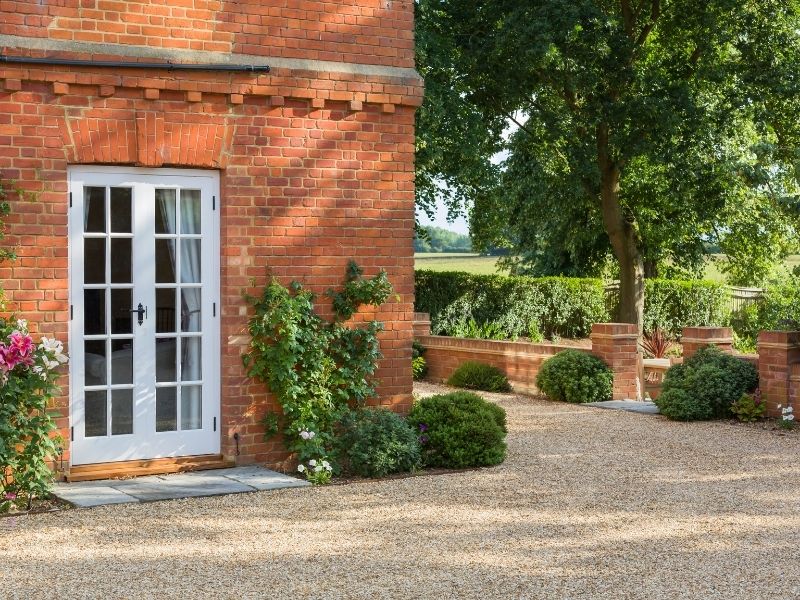 Gravel is available in hundreds of different colours which can be mixed and matched to match your home. Light gravel stones are warm and look great in the sun, while greys and darker colours match homes with slate roofs or dark grey tiles. For a little extra panache try framing your gravel with bricks or stones. This helps keeps the gravel in one place and frames your driveway beautifully.
Gravel is also versatile in design and can be laid out to fit any shape. Curved, circular, or straight, gravel driveways can do it all. It is also available as resin bound gravel. The resin makes your gravel look even better while adding another layer of protection.

Tarmac
Tarmac is one of the most affordable materials available. It is great for driveways and pathways and allows you to create a smooth, even surface to walk and drive on. Laying tarmac is also quick and easy. Once poured, this durable material dries quickly and will provide you with years of smooth driving.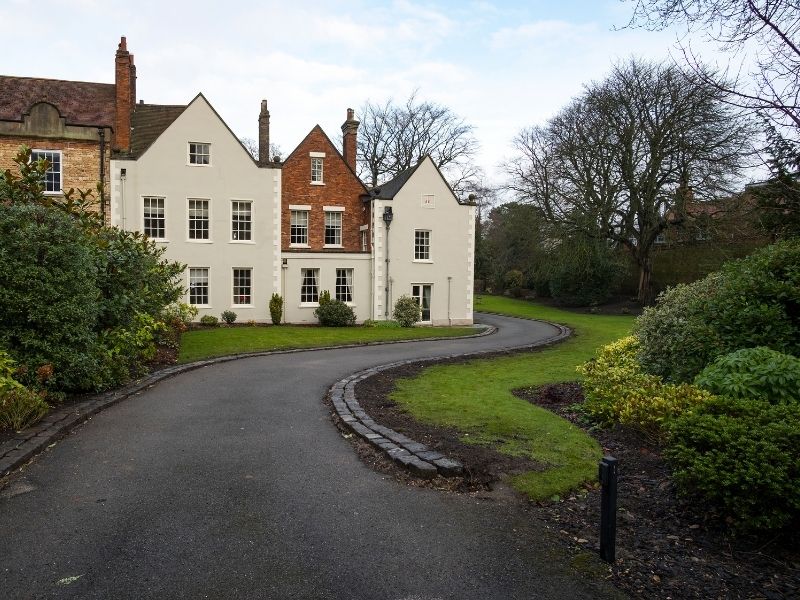 While tarmac hits all the high notes in terms of performance, it can be quite plain. It is only available in one colour and doesn't offer much in the way of texture or pattern. However, don't write off tarmac completely. It is great when used in conjunction with other materials. A driveway of tarmac bordered by brick or paving can look really effective and serve as a great driveway for decades. It can also be blended with coloured aggregates to match your home more effectively.
Paving
Paving adds amazing kerb appeal to your property. Whether using natural stone or block driveway materials, there are hundreds of design options available. Mix and match colours and patterns to make a driveway that is unique to your home. Herringbone, block, framed, natural, mixed the options are endless.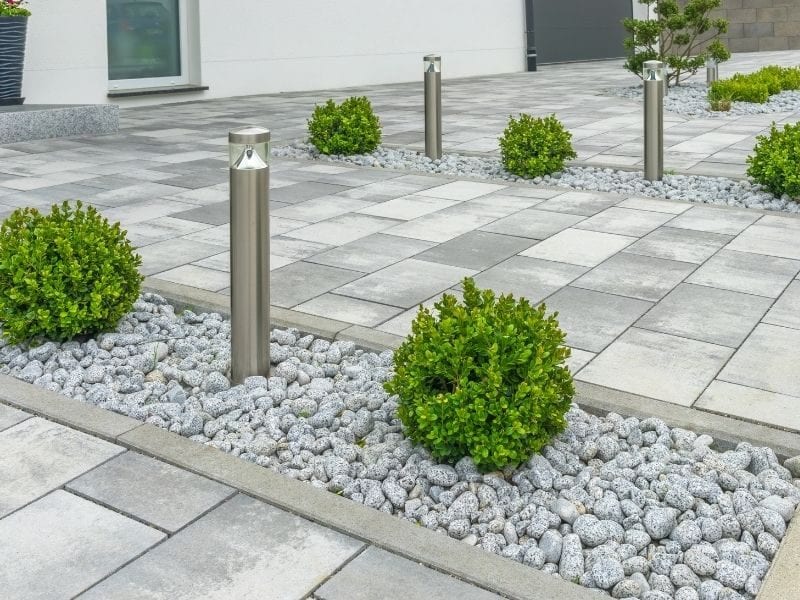 From a performance perspective paving stones are permeable, hardwearing and uniform, ideal for winter and summer alike. Paving is also made up of smaller blocks making it cheap and easier to repair than large concrete slabs. 
Asphalt
Asphalt is similar to tarmac. This plainer cousin is typically grey, cost-effective and will stand the test of time. Much like tarmac, asphalt can be used to make up the bulk of a driveway with bricks, stones or paving used to add style and colour to your drive. This is most commonly done by creating frames or paths alongside the asphalt.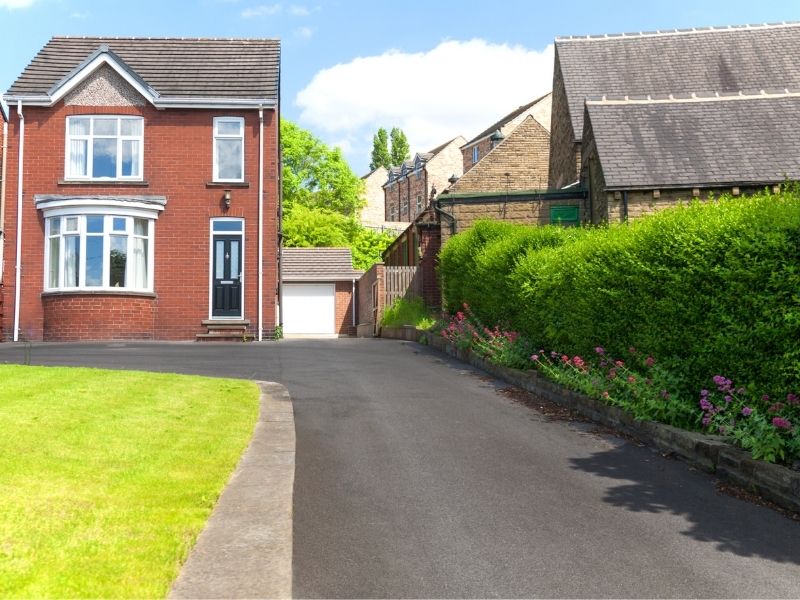 In terms of performance, asphalt is hardwearing, cheap and easy to repair. Asphalt also has high heat absorption making it perfect for properties in places that experience a lot of cold temperatures and inclement weather. 
Brick
The classic brick driveway has stood the test of time. Bricks are available in a wide range of colours, shapes and sizes allowing you to come up with a myriad of patterns and colours. While not the most cost-effective, brick driveways add a wow factor to your home and can be made to match your home's colours.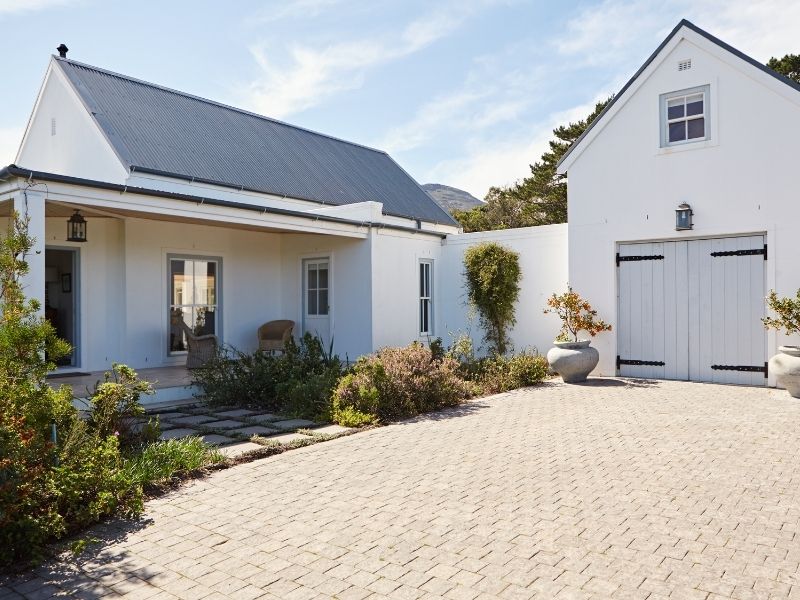 Brick is at home in all climates. It is easy to maintain, slip-resistant, stain-resistant and is built to last for years. Weeds are one of the only concerns as they can grow between bricks but with regular treatment can be kept at bay. Bricks are also relatively easy to replace should any break meaning you don't have to dig up the whole drive to repair any damage. 
As you can see each material has pros and cons. Depending on your home, budget and climate you'll find there is a material perfectly suited to your needs. For more advice or to get started on your driveway project give us a call. We have worked with tradesmen and DIYers for years and work tirelessly to provide you with top-quality materials and service.