Designing and laying a patio requires a swathe of big decisions. Where do you lay your patio? Do you go with a professional or do it yourself? Do you use paving slabs or stones? These are just a few of the questions you'll need to answer before getting your garden ready for summer. We're here to give you some Patio design ideas in the UK. Show you the many ways you can either create or redesign your current patio.
Before We Begin
Whether you are an experienced paver, a DIY warrior or considering hiring a professional, understanding how to lay a patio is key. So before reading about our ideas below, it's worth making sure you understand sub-base, edges, cleaning and everything in between.
Outdoor Living Patio Designs Ideas UK
Summer in the UK is notoriously difficult to predict. Some years it seems the summer days are endless, other years like it's over in 2 weeks. Make sure you make the most of the summer sun with this outdoor living space. A DIY patio design made up of large concrete or stone slabs is the perfect base for a wicker furniture set and sun umbrella.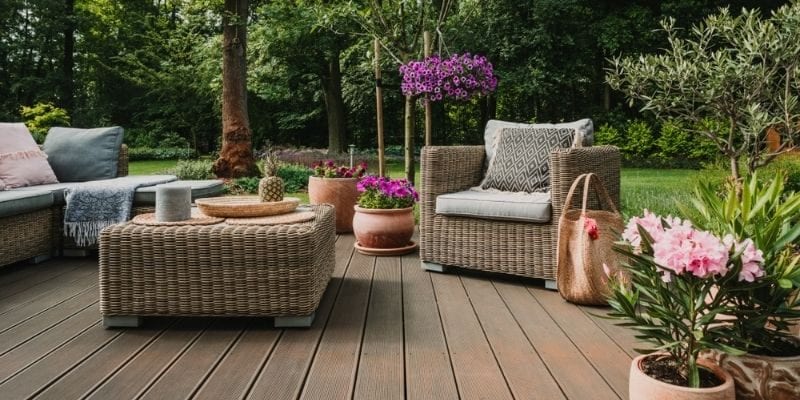 Wicker furniture is hard-wearing and comfortable (especially with some fitted cushions) and is a great space to entertain guests, enjoy the sun and a good book while the kids play in the garden, or a place to escape to for an afternoon snooze. To really make this space feel like home, add some cushions, throws and even an outdoor rug to tie in the furniture and paving.
Zen Paradise
A patio doesn't have to be huge. Depending on the space available you can make the most of a secluded corner with a zen-like patio. Natural stones are the ideal material for this space as they blend in seamlessly with your garden and create harmony. A small stone patio with stone steps leading to the house is all that's needed to get this effect.
To really turn this space into a relaxing haven, make your garden match your patio design. Try adding a few landscaping features like sweet-smelling flowers or a gentle water feature. When the sun comes out you'll be glad to have a place where you can relax and unwind.
Fire Pit Fun
Balmy summer nights are great for entertaining family and friends and there's no greater entertainment than a firepit. Firepits come in all shapes and sizes, whether you're looking for a quick way to add some life to your current patio or want to design a brand new patio with a built-in fire pit.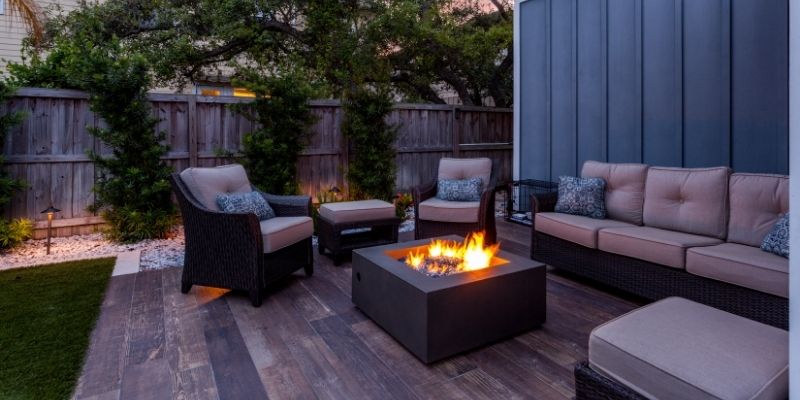 Make sure to go with a hardwearing material that can deal with excessive heat. Large stone or concrete slabs are popular choices as they are easier to clean as there are fewer small gaps for ash and other waste. To finish off the design add comfy outdoor seating and you're ready to roast marshmallows and enjoy the starry summer skies.
Pergola Dream
Pergolas are striking wooden structures which can help define and enhance your garden. Placed in the middle of the garden or the exit of a pair of french doors, a pergola tells your guests this is the space to wine, dine and relax. Pergolas can be draped with material for special occasions and are the perfect place to hang flower baskets and hanging plants. To make the most of your pergola, compliment them with some comfy outdoor furniture and turn your garden into an extension of your home.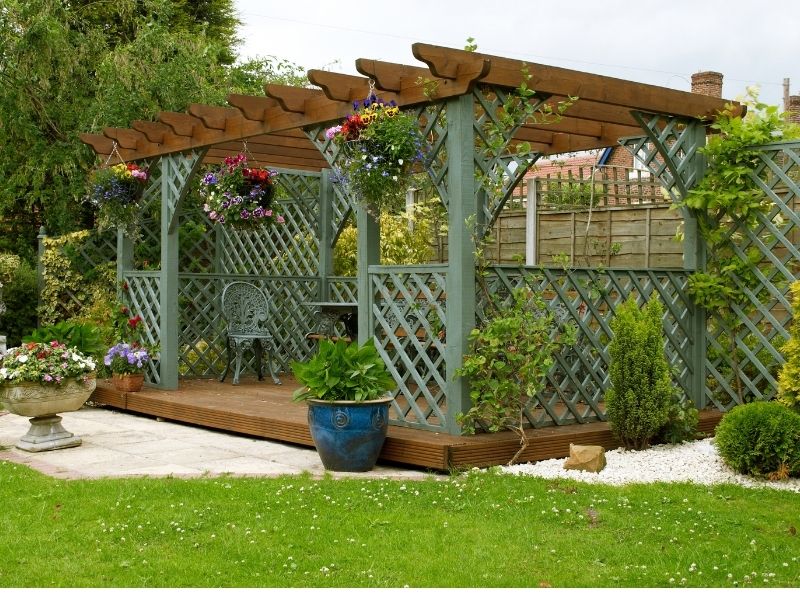 Since pergolas are supported by columns it's imperative that your paving is uniform and stable. Make sure you place your pergola is built safely and anchored correctly.
Artistic Pavers Patio Design Ideas UK
For some homeowners paving is more than just functional, it's a centre piece. To make your garden pop plan out your patio with various designs, materials and edges. Frame interlocking pavers with a different shade edge or try a unique pattern like concentric circles. The options are endless!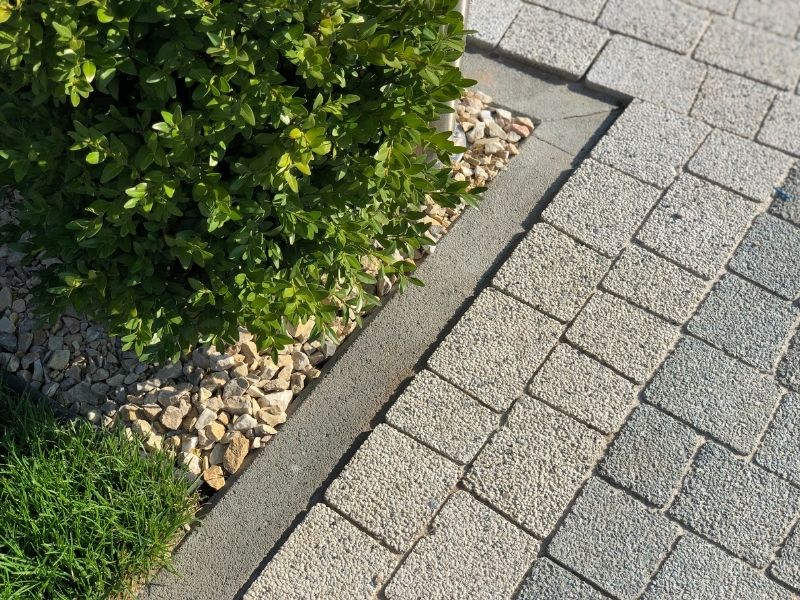 Paving stones also offer function as well as form as they are non-slip, easy to remove for repairs, and permeable. This allows rainfall to flow into your garden all the while keeping your walkways safe in wet conditions.
Alfresco Dining
One of the summer's greatest delights is enjoying a barbecue. Alfresco dining allows you to relax and imagine you're on holiday in the Mediterranean. If you're planning on adding a patio then add in a built-in barbecue and entertainment space. The extra worktops and purpose-built cooker make it easier to entertain and manage your barbecue, no more running in and out with dishes.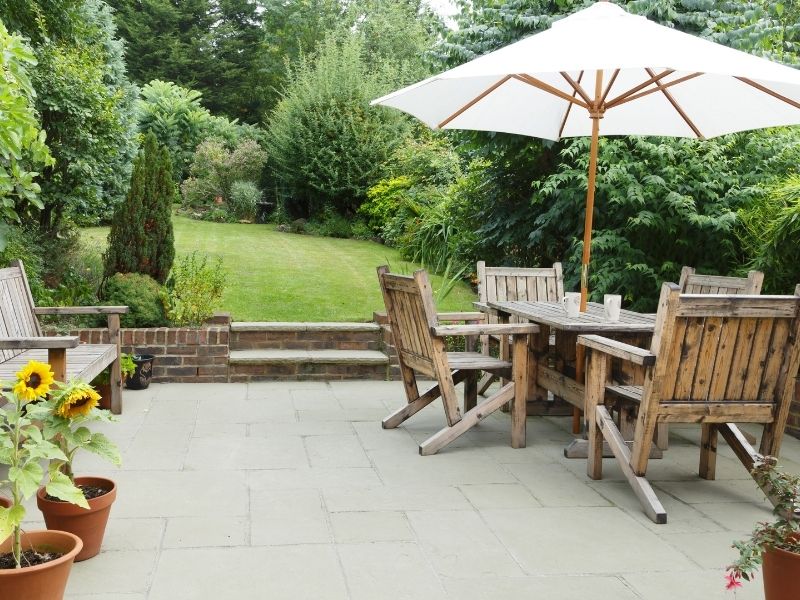 Building an alfresco dining area from the ground up also allows you to pick the perfect stones, pavers and furniture. Pick paving which can withstand heavy furniture and heat and go for something even and easy to hose down at the end of the day.
These are just a few of the ways you can turn your outside space into a summer paradise. If you'd like more advice or where to find paving materials at the best price contact us today. At JTD, we've worked with DIYers and tradesmen alike and are ready to get you ready for the summer sun.