Wooden floors come in a wide range of designs and materials. Hardwood flooring is available in natural and engineered forms and is one of the best ways to showcase your home and invest in a hardwearing, naturally-resistant floor material. Whether used in modern or traditional homes, shops, restaurants, or any other space, there are a wide variety of flooring options, each with their own pros and cons. We're going to take a look at the different types of hardwood to make choosing your flooring a little bit easier. 
What is a Hardwood Floor?
Hardwood floors refer to natural wooden floorings such as oak as well as engineered wooden flooring such as composites and veneers. This variety means there are thousands of designs, colours, grains, and finishes to choose from. We are going to look at solid hardwood, reclaimed timbers as well as engineered forms such as parquet, vinyl, and laminate.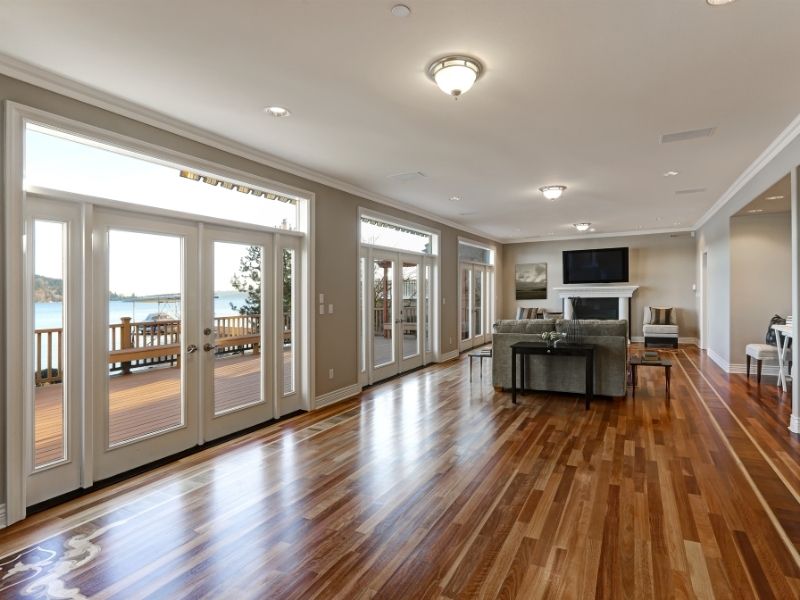 Wooden Flooring – Solid hardwood
Solid wooden boards of hardwood trees, like oak or walnut, are cut to size, sanded down, and coated in varnish and other sealants. These floors are renowned for their long-lasting durability and luxurious look and feel. Softer woods like pine or beech are also often used and are usually more cost-effective than harder woods. However, this cost-saving does mean they are likely to be damaged easier and wear over time. 
Regardless of the type of solid wood you choose, these floors give your home a rich, warm feeling, are natural insulators, and soften the acoustics of a room. This means a room with solid wooden floors make rooms feel and sound warmer. These floors add value to any home and should be seen as an investment rather than an expense.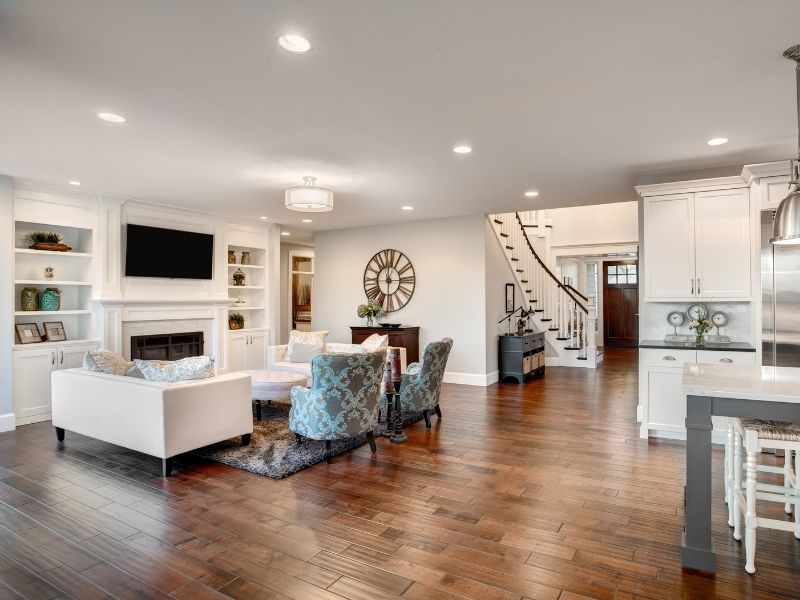 When choosing which rooms to lay solid hardwood consider the moisture the floors will endure. Hardwoods can warp in humid and wet environments so it's best to avoid solid hardwood in kitchens and bathrooms. These tough and durable woods are better placed in living spaces and areas with high foot traffic such as hallways. 
Solid wood flooring can also be laid over underfloor heating for added warmth.
Reclaimed timber
Homeowners are rightly concerned with cost and the effect of their home renovations on the environment. One way to get the solid hardwood look and reduce your carbon footprint is to choose reclaimed timber. Finding the right timber and treating it can be a tricky endeavour but it is well worth the effort for the unique patterns and grains you'll get from sourcing your floor from reclaimed timber. 
Engineered Flooring
Engineered flooring refers to flooring materials such as laminates, vinyl, and parquet flooring. These materials usually use several layers to recreate the look and feel of genuine hardwood. Most products have a plywood base with top layers of laminate, vinyl, or other durable materials. Many engineered floors mimic hardwood in almost every way. With their watertight coatings they can be used in areas where you may experience humidity or splashes of water. However, it is still advisable to avoid using wooden flooring in bathrooms or kitchens. 
Engineered flooring is usually made up of three or more layers of plywood laid at right angles to each other, with a durable top 'wear' layer of natural timber up to 6mm thick. As long as the wear layer is at least 4mm, many products can even be given a light sanding if damaged. It is very stable – more so than solid wood – so you're less likely to get movement between boards or warping caused by humidity. Expect engineered boards to have the same attractive, variable tones and knots as solid wood.
Suitable for most rooms, from hallways and living spaces to bedrooms, it's best avoided in shower rooms and family bathrooms. 
To find out whether the boards can be used with underfloor heating, ask the manufacturer before buying, and also check that the wood has been sustainably sourced.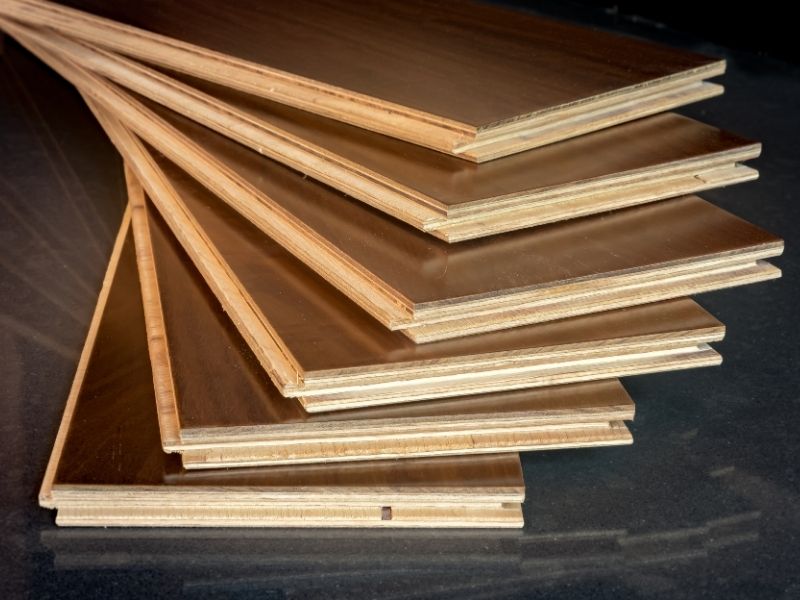 Laminate flooring
Laminate flooring is a multi-layered synthetic floor which uses the image of a wood grain printed on a plastic sheet and fuses it to a bast material like plywood. The plastic provides a laminated coating to the base material and is a popular choice for homeowners across the globe. High-quality laminates have an incredibly realistic wood grain appearance, are cost-effective, and are tough. Laminates are also easy to install. 
When looking for a laminate you get what you pay for. Low-quality laminates can look fake, wear and cheap easily, and end up costing you more in the long run. Make sure you do your research and weigh up the pros and cons of each laminate before deciding on a product. 
Vinyl flooring
Vinyl flooring is great for use in places like kitchens and bathrooms and can be significantly cheaper than solid wood. It is incredibly popular and comes in a wide range of textures and patterns including wood finishes, stone, and marble. Vinyl requires professional installation to ensure your floor is sealed and durable. 
While vinyl can withstand moisture, is cost-effective, and comes in a variety of designs, it still has a few weaknesses. Depending on the vinyl you choose, you may find the colours fade over time, especially in areas with lots of sun exposure. Heavy objects can also damage them which results in scratches and marks. 
Parquet flooring
Rather than a material, parquet flooring is a distinctive floor style. Dating back to designs in France in the 1600s, the alternating chevrons of angled wooden planks look and feel luxurious. They add a wow factor to any room. Parquet is available in solid wood and engineered wood but is usually one of the more expensive flooring options. You should also be careful with heavy objects and direct sunlight as this flooring can fade and scratch.
Even with the higher price point, you get a lot for your money. Durability, elegance, warmth, easy maintenance, and additional house value make this choice more of an investment than a cost.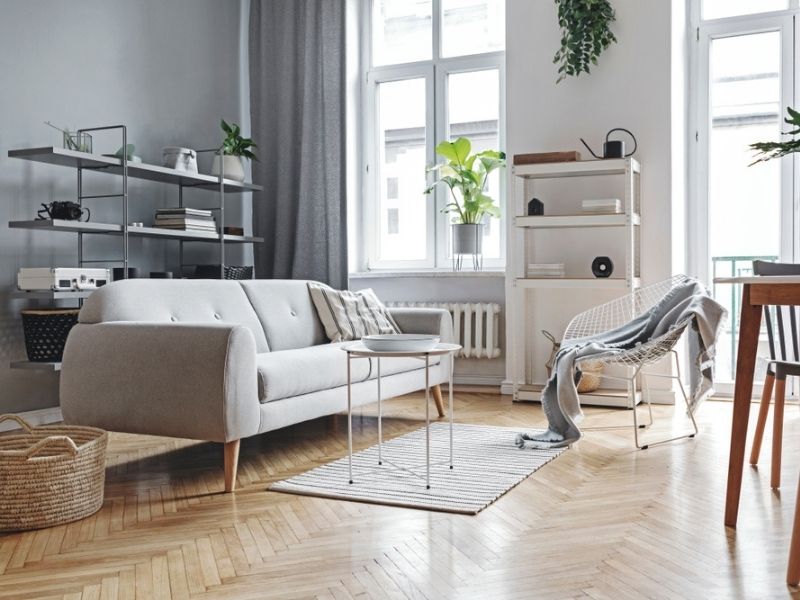 JTD Building Supplies
As you can see choosing the right flooring comes down to your preferences and budget. Solid wood floorings can last for decades. But they also require care and attention to keep them in tip-top condition. Wood ages and can be repaired by sanding down and applying new coats of sealant. 
Engineered woods are more convenient and usually cheaper, but wear a lot quicker and may require replacing sooner. These woods are also easier to install and give you the effect of wood throughout the home. Even in kitchens and bathrooms. 
At JTD Building Supplies we offer tried and trusted products that have been proven to work time and time again. If you need a hand choosing the right product or want to know more about wooden flooring, contact us and one of our team members will happily help you find the perfect floor material for your project.